Almost every client that comes to BACAB or Citizens Advice as a whole has a problem with debts owes money on their council tax. Nationally, Citizens Advice advised 93,000 people with council tax debts in 2017/18. This is clearly a big problem for our clients, but it's also a huge problem for councils , who desperately need this money repaid to provide services to the wider community. Clearly something needs to change.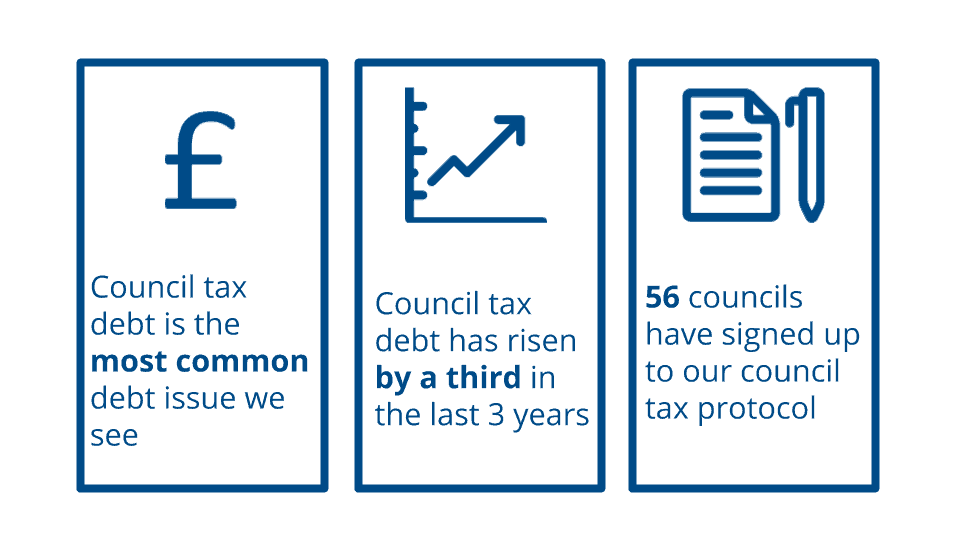 So what's being done about this problem?
With so many budget constraints, councils face increasing pressure to collect all the tax they're owed. However, many local authorities and debt advice agencies are now working closely together, so that collection processes can be improved. This has lead to earlier intervention to support people struggling with payments, and has prevented further charges, reducing both collection costs and demand on local public services.
The council tax protocol was developed in partnership with the Local Government Association and offers practical steps aimed at preventing people from getting into debt in the first place and clearly outlines how to ensure enforcement agents act within the law. A council who recently joined this protocol had this to say:
'We have a duty to collect the money owed, but we want to do so in a fair way and only go down the enforcement route when other avenues are exhausted.' – Councillor Roger Lawrence, Leader, Wolverhampton City Council
The protocol commits councils to work with Citizens Advice when they're helping a client. It also recommends open conversations about debt collection, and how we support residents who are struggling.
Sally's story
An example of one of the people that have received  help is Sally. Sally had attended a council tax hearing at the magistrates' court. She spoke to the council tax recovery team, who signposted her to Citizens Advice debt advisers at the court session. They felt she needed advice and help before she could enter into a sustainable repayment plan.
During the conversation with Sally it was identified that she was not getting tax credits that she was entitled to — which would really help her repay her council tax arrears — and she was juggling several other debts too.
After this initial assessment, Sally visited a Citizens Advice office for full advice. She managed to increase her income through a new tax credit claim and charitable grant from her water supplier and negotiate sustainable repayments to her council tax and non-priority debts, avoiding any further enforcement action on her council tax debt.
This is just one example of the huge difference working with Citizens Advice offices, can make to individuals in the community. If you or someone you know needs help with mounting debt please visit your local CAB.